Weikel's Store & Bakery, La Grange, TX
Weikel's Store & Bakery in La Grange is where it all started! We are located on State Hwy 71 between Austin and Houston. This location is considered our headquarters - it offers a complete experience of the bakery, deli, gift shop and convenience store, as well as our corporate offices.
Menu: Download
Address: 2247 W Hwy 71 Business, La Grange, TX 78945 map it
Phone: (979) 968-9413
Hours: 5:00 a.m. to 9:00 p.m. everyday (open until 10:00 p.m. Fri, Sat & Sun)
Village Market, Carmine, TX
The Village Market in Carmine is located on Hwy 290, just 10 miles west of Brenham, and is an ideal spot for our friends traveling on Hwy 290 to pick up some delicious baked goods. Our most popular items are baked onsite daily at Village Market, a quaint country store and fueling stop.
Address: 115 West Sylvan, Carmine, TX 78932 map it
Phone: (979) 278-3333 view website
Bakery Hours: 7:00 a.m. to 6:00 p.m. / Store Hours 7:00 a.m. to 10:00 p.m.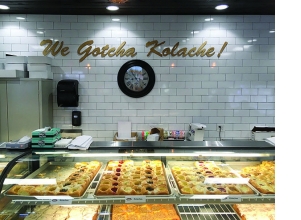 Weikel's Bakery, Brenham, TX
Weikel's Bakery in Brenham is now open!
The Brenham bakery includes a full-scale scratch kitchen and a seating area for up to 16 guests. The menu includes an extensive assortment of kolaches, klobasniky (pigs-in-a-blanket), sweet rolls, pies, bread, muffins, cookies and cakes all made on site as well as a coffee, tea and soft drinks beverage counter.
Menu: Download
Address: 2155 US Hwy 290, Brenham, TX 77833 map it
Phone: (979) 830-9190
Hours: 6:00 a.m. to 8:00 p.m. everyday