History
The success of Weikel's Bakery goes all the way to its roots... a family tradition of entrepreneurship, hard work and a love for food. The family business started in 1929 with the Bon Ton Café. The restaurant originally catered to pipeline workers who were laying the first pipeline through Fayette County. The original Bon Ton was opened by brothers Alvin and "Pop" Weikel, whose German heritage and French-inspired cooking blended to become "the spot" for locals, workers and travelers.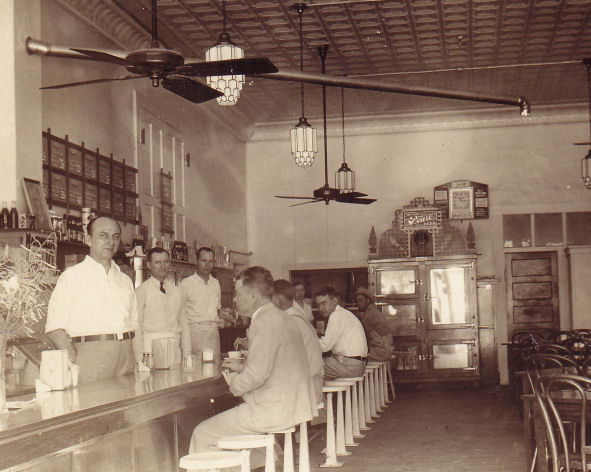 Opening day of the Bon Ton Café in 1929. Pictured behind the bar from left to right are owners
"Pop" Weikel and Alvin Weikel (Jim's Father) and the chef.
Alvin's son, Jim, became involved in the business in 1969 and from 1969 to 1985 Jim turned a small local café located ½ block off of the historic square of La Grange into a thriving landmark for travelers on State Hwy 71 between Austin and Houston. The Bon Ton was well-known for its plate lunches and buffet and was one of the first establishments to offer "Chicken Fried Steak." Jim sold the Bon Ton Restaurant in 1985 to his manager and was ready to embark on a new business venture…

After Jim sold the restaurant, he and his wife, Jo Ann, decided to open a convenience store. Their vision was unique at the time as they wanted to combine a bakery with a convenience store. The "Bon Ton Store & Bakery" was opened and was later named "Weikel's Store and Bakery". The award-winning and well-known bakery made a name for itself by providing authentic Czech baked goods, mostly Kolaches.

Jo Ann's grandmother Annie Kulhanek migrated from Czechoslovakia as a young child. Annie had nine daughters including Nolie, Jo Ann's mother. Nolie Kulhanek Schobel and her eight sisters grew up making kolaches with their mom. As adults, the sisters always strived to out-do the other. Through this fun competition, Nolie's kolache dough recipe was perfected. Jo Ann and Jim worked with her mom's recipe and developed it into one that could be done in larger scale. Jo Ann preserved the quality of the kolache dough and incorporated the secrets that Nolie never even shared with her sisters. Nolie's secret techniques are still a crucial component of Weikel's kolache dough recipe that is in use today.
The Kulhanek family whose mother migrated from Czechoslovakia. Second
from the left, standing, is Nolie, the founder of our Kolache recipe.
Today, Weikel's Bakery is very much a family operation. Jim's son Philip handles the daily operations, as he benefits from his dad's business experience and the advice of his mother, Jo Ann, on preserving the quality and authenticity of the recipe. Jim's wife, Sandra enjoys promoting the product. Jim's niece, Jackie, manages the bakery staff, and bookkeeping is handled by Philip's mother-in-law, Glenda, and Sandra's daughter, Jenna. The business is receiving national attention. They have been featured in several nation-wide publications including "Road Food" and the March 2009 issue of "Gourmet Magazine". It has been rated as one of the countries top 5 bakeries. Weikel's was also a guest by phone on Martha Stewart Radio.

While the bakery is a hotspot just as the Bon Ton was, it continues to grow and now ships around the country. Philip attributes the growth and national recognition to maintaining quality and keeping the product true to its authentic origins. He says, "One of the best ways I can grow this business and honor my family and ancestors is to continue in my dad's steps by running a good honest business with high principles and by staying committed to a level of quality that preserves the memory of my grandmother [Nolie]."