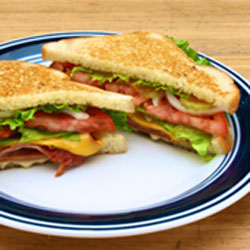 Daily Specials
Available at our La Grange location.
Our daily specials feature:
Monday - Sliced Chicken Breast Sandwich
Sliced Chicken Breast with Swiss cheese, spinach, onion and mayo on toasted white bread.
Tuesday - Philly Cheese Steak Sandwich
Steak with cheese, peppers, onions and sauce.
Wednesday - Grilled Cheese with a Cup of Tomato Basil Soup
A grilled cheese sandwich served on white bread.
Thursday - Beef and Cheese Quesadilla with Grilled Onions
Comes with a side of sour cream and pico.
Friday - Weikel's Reuben
Pastrami on rye with sauerkraut, Swiss cheese and deli mustard.
Saturday and Sunday - Chicken Salad on Wheat
Comes with lettuce and tomatoes
No Substitutions!